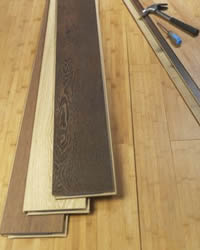 Flooring Companies Directory
Flooring Companies .org is a free flooring company search that helps consumers connect to experienced flooring companies, floor retailers, floor installers, and flooring contractors that can get the job done.

Whether you are remodeling your home, or are building a new home, one of the biggest decisions to be made lies in the selection of flooring. The choices are virtually endless these days. Will you opt for a classical marble floor, a trendy new laminate floor, a sturdy tile floor, or will you wind up picking out something else entirely?

By connecting with a reputable, experienced flooring company you will get help with these decisions in addition to assistance in selecting the material that fits your needs and lifestyle the closest. New floor shopping doesn't have to be stressful, but should be exciting as you make the selections needed to enhance your living space.

Best of luck in your quest for fabulous flooring!
Welcome New Companies:



best wood floor sanding



sand & finish , installations , new & used wood floors...



san antonio, tx
Latest Reviews:



AAA Ernie's Floors in Fort Lauderdale, FL
from JONH SULTAN
SINCER,AND VERY PROFECIONAL IN EVERY TASK ,,,WILL HIGHLY RCOMEND TO ANY BODY ,WHO IS LOOKING FOR FLOORING CAUSE THIS GUY IS HONEST AND HIS PRICES ARE...Details
Welcome new flooring companies!
Emil J Gera Concrete in Weatherly, PA
The Decorative Concrete Center in O'Fallon, MO
Orlando Carpet Store in Orlando, FL
Stellar Flooring in Winter Garden, FL
Creative Tile & Marble Inc. in Arnold, md
Varna Flooring in Arvada, Co
ARNOLD Masonry and Concrete in Roswell, GA
A+ Interiors Floor Covering L.L.C. in Nottingham, NH
Wood Floor Specialists, Inc. in Pittsburgh, PA
The Concrete Guys in Columbus, Oh
Summer Celeste Hand Painted Tile in Tucson, AZ
Shiny Side Up Hardwood Floors in Middleport, PA
Colonial Hardwoods, LLC in Westminster, CO
The Rug Importer in Paramus, NJ
C & R Decorative Concrete Flooring in Chesterfield, MO